Submitting Stepsheets
Before submitting a stepsheet to CopperKnob, please ensure that you have checked your document for errors and that it is the final version. Most errors can be avoided by stepping the dance through exactly to the step sheet prior to submission. We cannot accept image files for stepsheets, submitted documents must be in a text format such as word, pdf, notepad etc. The maximum file size we can accept is 2 Megabytes, please check your document is less than this.
Stepsheets can be submitted to CopperKnob by using the "Contact Us" Page. If you are already logged into the website then your contact details will already be populated, if not then please complete those fields.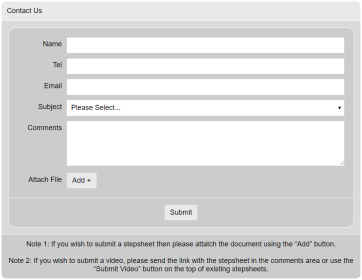 Contact Us Page
Change the subject dropdown to "Stepsheet Submission", or alternatively select "Stepsheet Change/Update" if you are submitting a revision for an already existing stepsheet on the site. In the Comments area feel free to add any video links, these can be YouTube or Vimeo URL's. Any video links added here when a stesphseet is submitted will be added to the site at the same time as the stepsheet.
Finally, attach your stepsheet file by using the "Add +" button. Once clicked you will see a file browser window appear, select the file and attach. If you accidently attached the wrong file, there is no delete facility and you will have to click on "Contact Us" and start again. You can however attach multiple files if you wish to submit more than one stepsheet at a time, this is done by repeating the steps above.
Click on the "Submit" button to send us the stepsheet. Stepsheets normally take about 24h to appear on the site.
May 15, 2020