Using Stepsheet Lists
Stepsheets can be saved to favourite lists which are stored on the CopperKnob website. These work differently to the bookmarks on your browser. With lists its easy to save a stepsheet to multiple lists and also remove those stepsheets from multiple lists, also if you log into another computer using your CopperKnob User ID and Password you will be able to view all your saved stepsheet lists. In addition lists can be made public and shared by using the URL or to social media with the action buttons, this allows other dancers to see your line dance favourites.
To start to use the Save stepsheet feature you must first register an account with CopperKnob or log in if you already have an account. Once viewing a stepsheet, to save it click on the save icon shown just above the stepsheet.

Stepsheet Action Buttons
You will now see a window pop up showing your available lists. (By default everyone has a list called "Favourites"). Put a tick in the box next to the list you wish to save to. To remove a stepsheet from a list you can also just deselect the tick.

Save Popup Window
To view all your lists click on the "MY LISTS" option on the top black bar. Here you can create, delete and edit the lists. Add a new list by clicking on "Create New List", this will create a new list called "*New List*".

My Lists Page
The name can now be altered by clicking on "EDIT". You will then see various options shown below where you can change the list name and the colour of the top information bar when viewing a list.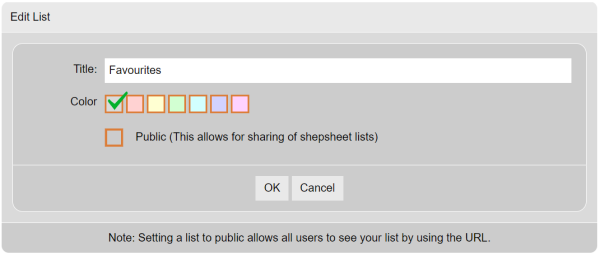 Edit List Page
Finally, to allow others to see your lists you must first make them public, do this by putting a tick in the box on the Edit List page, and click on "OK". Now when viewing the list you will see the share icons, and you can also copy the URL from the address bar and share with others.
July 8, 2021